Theatre & Dance in Sharjah
Sharjah city is considered to be the cultural capital of the Middle East, and the people here appreciate art in all its forms.
Sharjah organises various events, performances and festivals where the visitors can enjoy the performance of artists not only from the UAE but also from the rest of the world. The theatres in the city are well equipped with the most state-of-the-art facilities to give you a satisfying experience.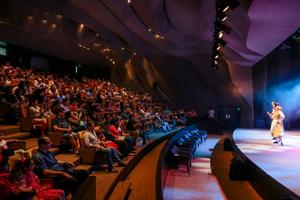 Masrah Al Qasba Theatre
Masrah Al Qasba Theatre
The Al Qasba cultural and entertainment centre is home to the Masrah Al Qasba, a 300-seat theatre, which plays host to a plethora of events and performances, including live music, films and plays as well as conferences and exhibitions. Furthermore, Masrah Al Qasba is a venue for the screening of cutting-edge movies by Arabian, Iranian and North African film-makers as well as showcasing all the usual Hollywood blockbusters. It also hosts a series of annual film festivals, international concerts, poetry evenings and many more.
Address: Al Qasba, Sharjah, UAE.
Tel.: +971 6 525 2444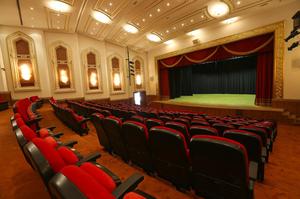 Heart of Sharjah

Sharjah Institute of Theatrical Arts
The Sharjah Institute of Theatrical Arts is located in a striking building in Al Mareija. It has two well-built theatres which can occupy almost 475 people. The stage is available for theatrical performances, drama rehearsals, and workshops. The institute organises various programs and activities throughout the year and their objective is to promote the importance of Theatre art in the society.
Address: Al Mareija, Sharjah, UAE.
Tel.: +971 6 568 1333
Recommended Activities