Sharjah, UAE » Entertainment » Activities
A flourishing industrial city, Sharjah retains much of its old city charm. As one of Emirates oldest cities, it offers a large selection of indoor and outdoor activities featuring boat tours, desert driving, fishing and much more. The climate during the months of November to April is ideal for participating in activities focused in and around the city centre of Sharjah.
Desert driving
Desert driving is the most thrilling and exciting activity for tourists looking for adventure. Many companies organize day, evening and overnight desert safaris and dune bashing tours in Sharjah. Ask them for the Fossil Rock tour which is one of the most popular sand driving areas in the city.
Click here to Book Now!
Sharjah Cruises
Crossing the Khalid Lagoon (Sharjah Creek) on a traditional Abra in the early evening provides guests with an exceptional & unique experience; watching the city skyline light up as the sun goes down. Enjoy panoramic views of walkways, bridges, skyscrapers and picturesque attractions of the whole city while on your cruise.
Click here to Book Now!

Camel Safari
The Camel Safari is one of the most popular activities for tourists. There are many tour operators in the city who organize camel safaris in different parts of Sharjah. Enjoy rides of various lengths to many of the Emirate's most stunning beauty spots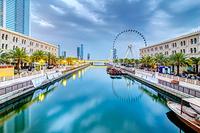 Kids Zone at Al Qasba
Kids Zone at Al Qasba offers an exciting world of knowledge and unadulterated fun for children of various ages. There are a large number of specially designed, edutainment activities that test the skills of children. Supervisors at the Kids Zone continuously keep a watchful eye on your children to make sure that the place is safe for them.
Opening Hours: Summer: Daily, 4:00 pm to 12:00 am, Public Holidays 2:00 pm to 12:00 am
Winter: Saturday to Thursday: 10:00 am to 12:00 am, Friday: 4:00 pm to 12:00 am
Tel.: +971 6 5560777
Photo Credit: Creative Commons/Firoze Edassery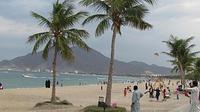 Beaches
The city of Sharjah with its beautiful coastline takes pride in a diverse style of public and controlled beaches. Enjoy various activities such as swimming in crystal clear waters or have fun building sand castles. Remember, there is a strict dress code for women visiting Sharjah's beaches.
Following are some of the beaches in Sharjah city: Al Khan Lagoon, Al Khan Beach, Corniche Beach, Hamriyah Lagoon, Al Buheirah Corniche and Khor Fakkan.
Photo Credit: Creative Commons/Vicharam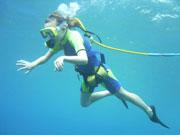 Diving
Sharjah's east coast is among the most famous diving sites in the UAE. Get a chance to observe interesting coral reefs and marine life such as turtles, sharks and moray eels. Most of the dive sites are situated not far from the coast of Khorfakkan and the coastal town of Dibba. Some of the popular diving spots are Martini Rock, Shark Island (off Khorfakkan), Sandy Beach, Dibba Rock and Lima. The Gulf is home to about one third of the world's 80 species of whales and dolphins.
Sharjah Wanderers Sports Club ( Visit Site )
Address: Samnan, Sharjah, United Arab Emirates
Tel.: +971 6 5662105
Fishing
Fishing in Sharjah is a unique experience. The city of Sharjah has an excellent marine environment with over 500 fish species to be found in the Gulf waters.
Sharjah deep sea fishing trips ( Visit Page )
Address: 27144 Al Sharjah, United Arab Emirates
Tel.: +971 50 9665544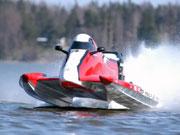 F1H2O - Formula 1 Powerboat races
(
Visit Site
)
The F1H20 - Formula 1 Powerboat races proved Sharjah as a pioneer in hosting international events. Held since 2000, Formula 1 Powerboat racing is the most breathtaking water sport in the world. These boats achieve a top speed of 160 kilometres per hour in only 4 seconds!
Residential and public parks
(
Visit Site
)
Sharjah has over 21 parks covering a total area of about 411,000 square meters. Further, the city administration is making plans to increase the green cover even more. There are plenty of open green fields spread throughout the city. These green areas offer ample, well equipped recreational facilities such as open spaces to play football, basketball, walking and jogging etc. Also, there are some locations in the city specifically reserved for women and families.