Thai cuisine can lure food lovers all over the world. Its aromatic smell, rich and creamy curries are a treat. If you are craving Thai food in Sharjah, keep reading! Here are some healthy Thai dishes you can savour in Sharjah.
Think about it! It's good to try and include foods that are a bit healthier. Why? With soaring obesity levels, it's excellent to make conscious changes in eating habits. An exciting study highlights the goals of a diet of 2050. So, the next time you are craving some great Thai food, remember plenty of healthy Thai dishes to enjoy. The best part - foodies can find these dishes in most Sharjah Thai restaurants. Check some of the best restaurants in Sharjah, and book in advance for an enjoyable meal.
Tofu green curry and vegetables
Thai curries are flavourful and straightforward. For those who wish for a healthy Thai dish, maybe steamed with seasonal vegetables, you must try Thai green curry. The dish is made with coconut milk, and one can ask for extra vegetables in the curry or on the side; served with tofu, the dish can be filling.
Thai-style steamed fish
Enjoy Thai-style steamed fish with a lovely broth of chilli, garlic, and lime. It is a super simple dish but is featured with bursts of flavours. Whether you are a seafood-lover or not, the steamed food is one memorable dish to try.
Papaya salad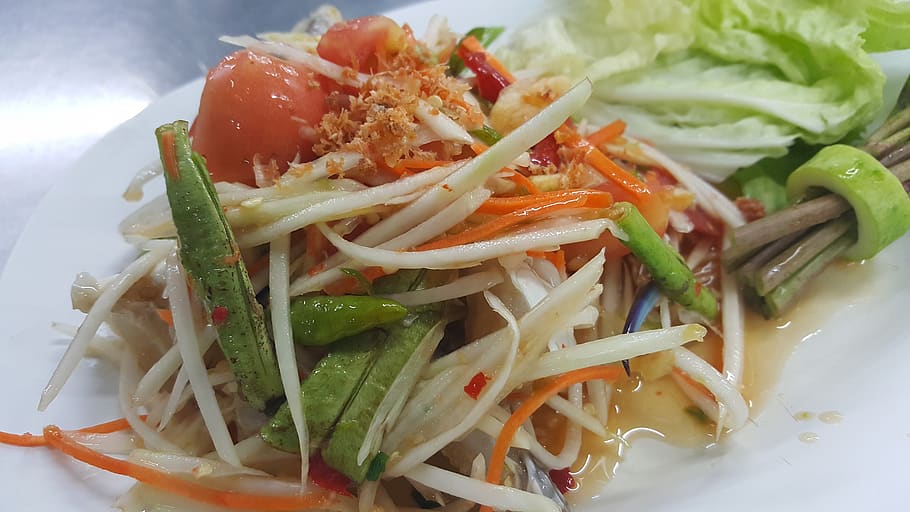 Thai green papaya salad is your go-to dish for those who wish to try something light and refreshing. Papaya salad is best served as an entrée dish, made with shredded papayas, tomatoes, and green beans. The dish is a colourful delight. Plus, guests can help themselves with extra vegetables or order lean protein such as satay skewers on the side.
Thai chicken satay
Yet another dish that guests will love is the Thai chicken satay. Typically, chicken satay skewers are presented as an entrée on Thai restaurant menus. It is excellent to have this skewered and grilled or even broiled lean protein. Guests can also order a side of salad or vegetables to create a balanced healthy Thai meal. Plus, when served with peanut sauce, it renders a memorable taste.
Larb Gai Thai chicken salad
Larb Gai is a popular and traditional Thai dish to savour. Made with meat or chicken with herbs, guests can enjoy it with onion and lime juice. The main ingredient is mint which adds fresh flavours. Well, the splash of colours is another welcoming facet of the dish.
Do look forward to a memorable dining experience in Sharjah and savour lip-smacking food.