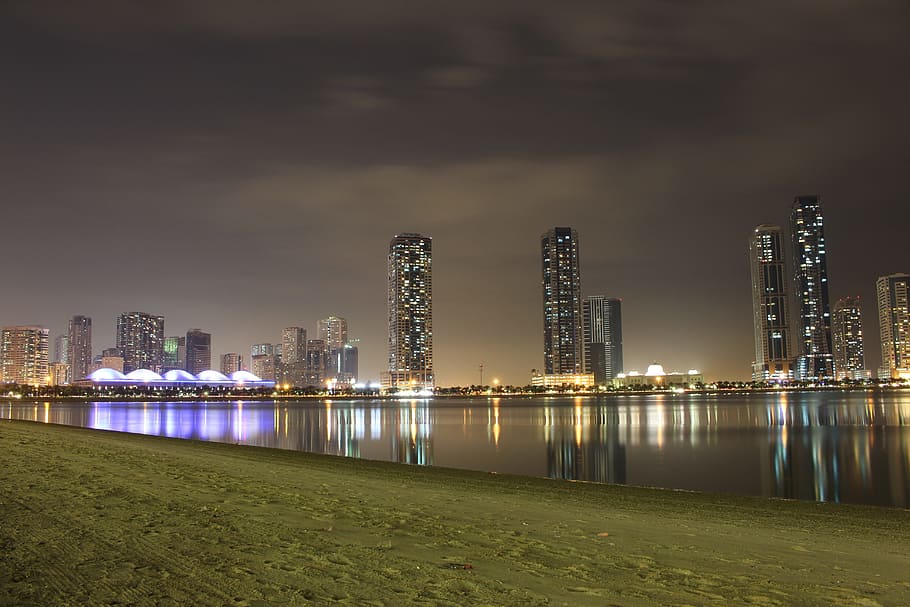 The UAE is home to several beautiful lakes. Sharjah is no exception, with some pristine and gorgeous lakes that are straight out of the postcards. It is a sight for tourists and ideal for those looking for a calming excursion away from the hustle-bustle of daily life.
Al Majaz Waterfront
Al Majaz Waterfront is located in the heart of the city of Sharjah. The lake is spread over 231,000 square feet, and you can immerse in its lovely scenery overlooking the Khaled Lagoon. The iconic leisure destination has beautiful landscapes and stunning architectural designs. All this reflects Sharjah's rich cultural and historical heritage. Water sports adventure fans can choose a refreshing cruise along the Khaled Lagoon, and those who want a peaceful scenic ride on the sea can ride on the traditional Abra boats. Children can hop aboard the fun family train with their parents and enjoy a scenic tour, exploring the Al Majaz Waterfront.
Wasit Lake and Reserve
Wasit Nature Reserve is an incredible blend of diverse ecosystems featured with ponds, a large lake, coastal dunes, and salt flats. The site also won the prestigious Aga Khan Award for architecture in 2019 for its pioneering efforts in transforming wasteland into thriving ecosystems for indigenous flora and fauna. Birders can look forward to watching over 200 bird species. What's more? Tourists can enjoy a fulfilling day exploring and wildlife spotting. For adventure seekers, book a sightseeing tour that suits you best and explore the city.
Al Khan Lake
Yet another beautiful site for recreation is Al Khan Lake. It's an egg-shaped lagoon, where visitors can spend some calm and peaceful moments. One can take a short walk on Al Buhaira Corniche to reach the Qasba Canal. For those who enjoy walking trails, the destination offers cosy spots to stroll along. It is a fantastic location. Around the Al Qasba leisure centre, there are plenty of cafes, restaurants, and cultural and entertainment facilities.
Sharjah has gorgeous lakes and adventurous water sports activities. Drive down to the lakes for a refreshing break away from the hustle-bustle of daily life for some calming moments.