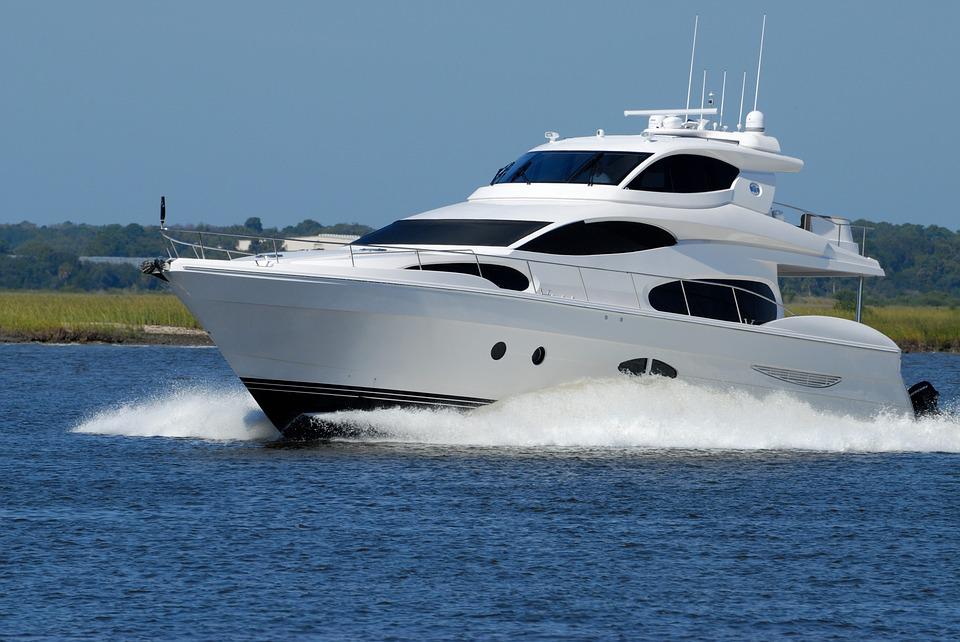 ll yachts have an amazing vibe of their own that you can feel with the style of the yacht, its services, and overall structure. In the UAE, you can easily enjoy a trip through luxury yacht rental and can make your trip a memorable one. The experience you will gain at the yachts is highly comfortable, and you get a chance to explore the city and its beauty by being on a yacht. 
7 luxury yachts to rent in UAE 
UAE is famous for fulfilling all the extravagant needs that people have. When it comes to yachts, there is a huge variety out there for you to choose from. There is no end to the deluxe lifestyle in Dubai; to enjoy it on a voyage, here are the best luxury yachts that you can rent in UAE. 
1. Lotus Mega yacht
With the capacity of 500 people and 9 separate cabins, this can be a perfect yacht for you to enjoy some time away from the hustle and bustle of city life. There are six jacuzzis inside the yacht, along with a professional AV system. This yacht has a life of its own with a nightclub that can accommodate up to 200 people and a cinema specially designed for 60 people. 
Activities
Here are all the activities that you can find on this yacht for entertainment. 
More than 20 screens where you can play anything you want 
Three large projection screens 
42,000-liter pool to enjoy 
5 decks with a special view 
2. Benetti Code 8 yacht
Code 8 is an amazing sight for all people. Its beauty and structure are enough for people to stare at it for a long time and appreciate the overall structure. This yacht made by Benetti has the capacity of 50 people with a big jacuzzi that the people really love. With a speed of 15 knots, it covers the range of 4000nm. This yacht was manufactured in 1996 with a unique exterior. As for the interior, it has been decorated by Zuretti interior design, giving it a perfect touch that tourists want for Instagrammable pictures. 
Activities
It is specially made for the people to have a perfect view of the sky and water with the people they love. According to the frequent users of luxury yacht rental in Dubai, it is always best to try new things on the yacht and get all the customized activities. Here is what you can do on this yacht to have one of the best experiences. 
Huge jacuzzi pool
Live BBQ area at the sky lounge
The master suite for guests
3 VIP staterooms for special guests
AV system
Ski, tubes, kayak, and wakeboards for all people 
Snorkeling and fishing gears 
3. Sunseeker Legende yacht 
Sunseeker Legende will be manufactured by a British shipyard in 2019 and has the capacity of 30 people with 8 guests that can stay overnight in 4 cabins. This 35.2m yacht has an attractive exterior as well as an interior that is designed by Sunseeker. Everything that is present in the yacht is designed especially to provide comfort and entertainment side by side to the people. 
Activities
Here are some incredible things that will keep you occupied during your entire stay. 
Gym
Outdoor top rated bars
Swimming pool and platform 
Jacuzzi 
Sun deck 
At anchor stabilizers 
4. Custom 80 Stealth yacht 
Custom 80 Stealth is a perfect yacht where you can have amazing never ending parties. Being on this yacht will give you all the carefree experience you need to have the best vacation. The manufacturers build it completely for the sole purpose of having celebrations throughout the day and splendid nightlife and dining. The dance floor will give you the vibe to dance to every beat that seems perfect on high quality sound system. 
Activities
Custom 80 Stealth yacht has more to offer than you can imagine, with an incredible interior and exterior design that can never fail to amaze you. You can also enjoy the following services provided on this yacht: 
The capacity of 60 people
Guest cabins 
Spa pool 
Unlimited snacks and beverages 
Sound system
Huge dancing floor with the best lightning 
5. Gulf Craft 95 - D321 140
The gulf craft 95 - D321 has a length of 95ft with a capacity of up to 50 people. This yacht is perfect for couples or small families who need to spend the night on the yacht or need to have special events. To get an elite experience of sailing, this is a perfect experience for you. Dive directly into the sea to get some time in the freshwater or spend a few moments relaxing in a jacuzzi. 
Activities
These are the few elements from the overall package that you can enjoy at Gulf Craft 95 - D321 140:
Flybridge
180-degree view of the ocean 
Dining hall 
Lounge with a screen 
VIP suite with 180-degree sea view
Two VIP suites for guests
Outdoor seating and dining areas
6. Dolce Vita 105ft yacht 
Dolce Vita radiates the vibes of being in a club on a beach. With the art JL audio sound system is present at the bow of the boat near the aft sunbathing area. Dolce has a sleek exterior design and fantastic color combination for the aesthetics inside the yacht. It is a perfect choice to select this yacht for special festivals such as new year as with a perfect view; you can see all the fireworks by being at a peaceful location. 
Activities
While renting a yacht, there are a lot of things that are complementary and can be added as per your requirements. These are the following aspects that you will surely get while renting this yacht. 
Sea bobs
Jet Skis 
European crew members to give you the services that are loved by the people who visit from European Union countries 
Entirely customized setup and service 
7. Notorious yacht 
Plan your family trip or a night special with Notorious yacht that can accommodate up to 10 people. With a master room, Pullman-styled beds, and fold-out cabin walls, you can turn anything into a special event here. Select a movie to watch on a giant 70-inch 4k TV in the lounge with a direct view of the sea and starry nights. Notorious has a 20 knots speed and can reach up to 28 knots while using the caterpillar engines. The best thing about this yacht is that it has stabilizers, due to which even when the sea is rough, you can ensure stability. 
Activities
Renting this yacht will keep you satisfied, and your guests will never get bored. To ensure that your group enjoys the most, these are the activities that you can opt for with them:
Fishing gear 
Waterskiing 
Donut riding 
Jet skiing 
Overview of some best luxury yachts you can rent in the UAE 
Luxury yacht rental in Dubai can fulfill all the requirements and services you need in the yacht. All you need to do is select the yacht that you like and enjoy your amazing trip. In all the yachts, it is not necessary that you need to have all the people to fill the capacity. You can get everything customized for limited people too.